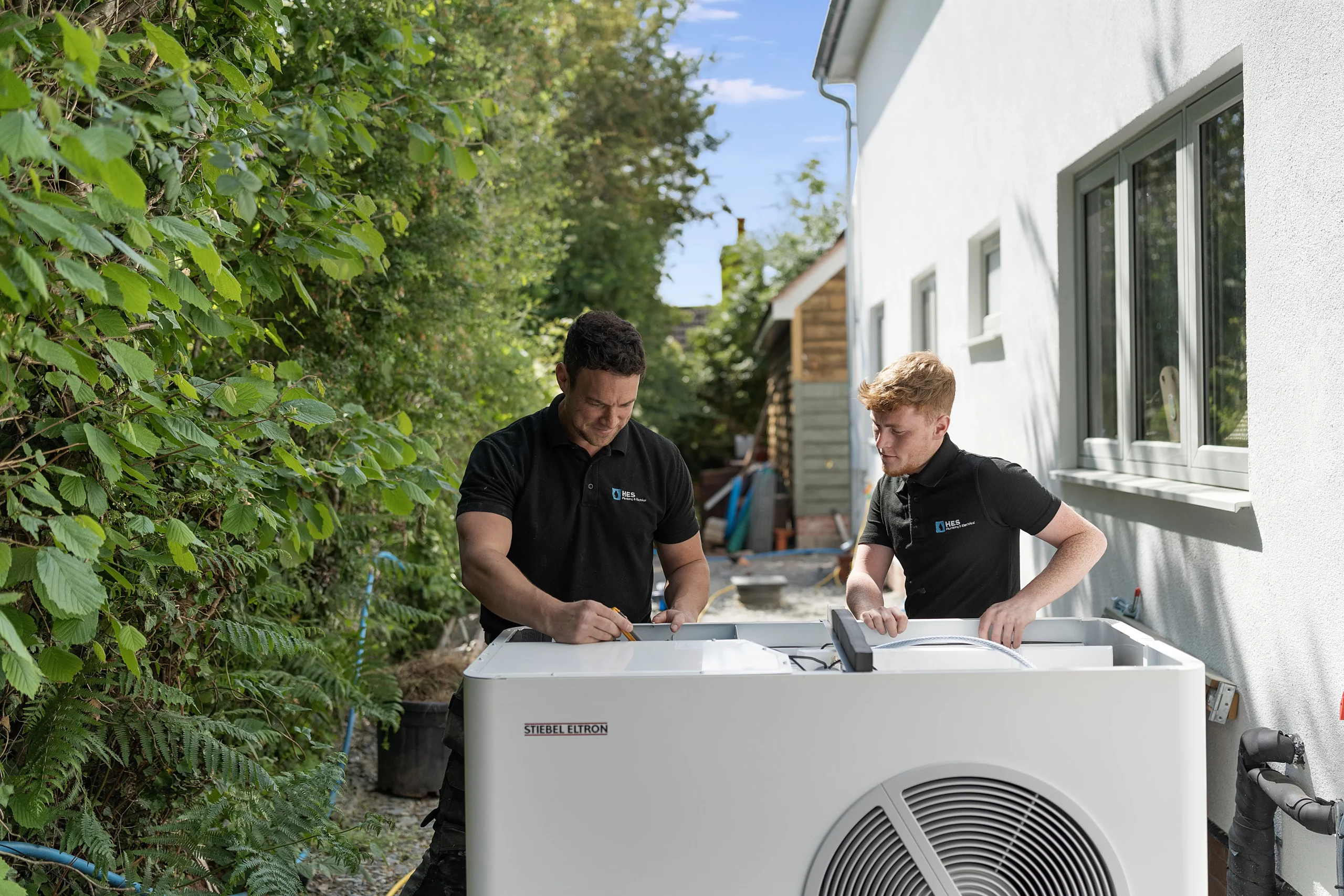 Your Trusted Experts in Plumbing, Electrical, and Green Energy Solutions
Transforming Plumbing, Electrical, and Renewables
Welcome to HES Plumbing and Electrical. We provide a professional service for your home and business needs. From minor repairs to complete installations, we've got you covered across Herefordshire and surrounding counties. Our team consists of highly experienced and qualified specialists, each an expert in their respective field. With our comprehensive range of services, we are championing sustainable and renewable green energy solutions.
Harness Renewable Energy with Air and Ground Source Heat Pumps.
Example of an air-to-water heat pump system.
Let us design an efficient solution tailored specifically for your home. Now is the ideal time to tap into the long-term benefits of green energy with air-to-water or ground-source heat pumps.
Air source pumps work by harnessing heat from the outside air, which can then be used to warm your radiators and underfloor heating systems. On the other hand, ground source pumps extract heat from the earth through buried pipes, continuously renewing the natural energy source.
Our heating engineers will guide you in determining the suitability of these solutions for your home or business. By embracing heat pumps, you can not only significantly reduce heating costs but also contribute to our collective responsibility for the planet we call home.
---
Get in touch with HES Plumbing and Electrical today and let's embark on a journey towards sustainable and efficient solutions that prioritise your comfort and our environment.
FAQs
We handle a wide range of small plumbing and electrical tasks, from fixing tap washers to moving light fixtures.
Our large-scale projects cover boiler installations and plant room setups.
The Boiler Upgrade Scheme (BUS) offers an upfront government grant of £5k for installing an air source heat pump (ASHP) or a biomass boiler and a £6k grant for fitting a ground source heat pump (GSHP). BUS replaces the Renewable Heat Incentive (RHI) with a voucher-based system. The scheme is valid from April 1st, 2022, to March 31st, 2028.
Air source heat pumps are more sustainable and energy-efficient than oil or gas heating systems, making them an excellent choice for home heating.
Yes, our sister company HES Renewables offers expertise in solar PV systems, battery storage, and electric vehicle connectivity for residential, agricultural, and commercial properties. Find out more here.